THE CROODS REVIEW (2013)
The Croods was the first of two film releases for DreamWorks Animation in 2013. Written and directed by Kirk DeMicco (Quest for Camelot, Vivo) and Chris Sanders (Lilo & Stitch, How to Train Your Dragon,) the film follows a family of cave people as they adapt to their changing surroundings. I saw The Croods once a few years ago and didn't like it at all. I was downright disappointed to see Chris Sanders attached to such an ugly, mediocre film after co-directing Lilo & Stitch and especially How to Train Your Dragon. However, it's been a long time, and I've changed my mind about movies before. Let's take a look.
Eep (Emma Stone) is the eldest daughter of a family that strives to be safe at all costs. Grug (Nicolas Cage), her father, is concerned with keeping his family safe and insists that they must be in the cave by sunset. Eep, on the other hand, wants to explore and despises both being in the dark cave and being told what to do. When Eep meets Guy (Ryan Reynolds), a wiser, less brawny humanoid who doesn't hide in a cave and builds his own tools, things start to shift. Nature steps in and forces Grug and the rest of the family out of the cave, forcing them to go on a journey with Guy to find a new home.
The Croods contains some truly stunning animation. The landscapes in this movie are to die for, not to mention the insanely inventive designs for the animals. The big-headed big cats, turtle-birds, and other wacky critters have Chris Sanders' name all over them and are some of my favorite things about the film. The sequence where the family is out at night for the first time and they all see the stars come out is just breathtaking. I'm glad I watched The Croods again because I didn't remember the visuals being so impressive and inspired. I don't like the human character designs, though, especially Eep. She's just off-putting to look at. Sanders is known for his drawings of curvy and unconventionally-shaped women, but Eep is visually unpleasant. I get that they're cavepeople and not necessarily supposed to be beautiful, but the triangular shape of her body, her massive arms, and minuscule feet are unappealing to the eye. I find this dissonance between the characters and their environment to be somewhat distracting. It reminds me of The Good Dinosaur, which also sports gorgeous backgrounds and realistic foliage combined with uninspired character designs. The Croods' original musical score by Alan Silvestri is alright. It suits the mood and aesthetic (confused though it may be) of the film, but it's nowhere near as good as his work on the Marvel movies or Lilo & Stitch. It works well enough for the movie it's attached to, but it's nothing memorable.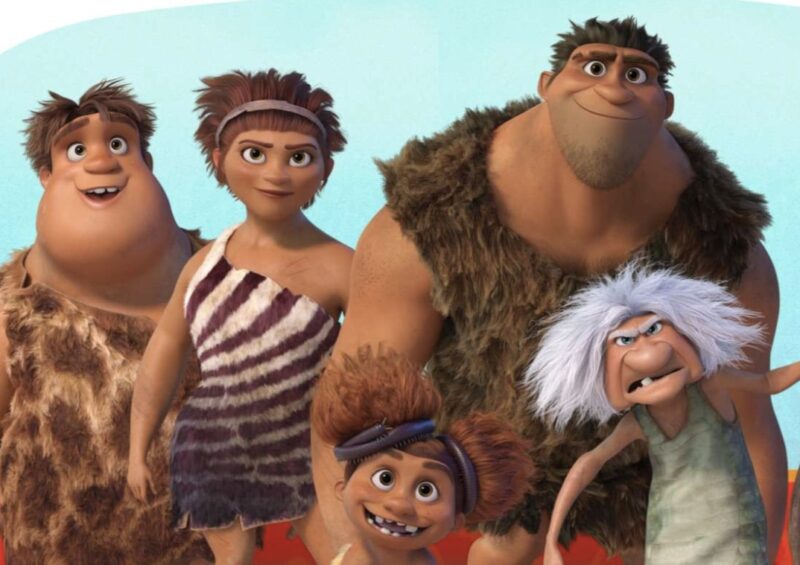 Emma Stone as Eep and Nicolas Cage as Grug lead a tiny but strong ensemble in The Croods. Ugga, the family matriarch, is played by Catherine Keener, and she's generally kind and understanding, despite the fact that the film doesn't allow her anything to do. As Gran, Cloris Leachman plays her trademark crazy old woman. Thunk, who is 9 years old, is voiced by Clark Duke, while Guy is played by Ryan Reynolds. Despite including a brilliant cast of experienced actors (including Clark Duke, whom I had never heard of), The Croods' acting isn't very noteworthy. Eep, played by Emma Stone, is your typical rebellious teen who wants more from life, but she doesn't do anything to endear you to her or make you feel what she's experiencing. Grug seems to be obstinate and dumb the most of the time, Guy is as generic as his name, Ugga is a stock mother character, and Gran and the infant, Sandy, are unremarkable. Thunk's jokes all fall flat, in addition to his voice not suiting his age or character design. I don't hold the performers responsible since it's all of them, and they don't have much to work with.
I think it's a shame that such beautiful landscape animation was put to use with these characters and this story. The more I think about it, the more The Croods really does remind me of The Good Dinosaur. They both take place in prehistoric times, a period we know very little about and with which a filmmaker could do anything. The Croods is about a family of Neanderthals being exposed to the outside world and meeting a Cro-Magnon. I feel like a lot could have been done with this premise, but the film is at times insultingly simple. I like simple movies a lot when they work; there's nothing terribly complex about How to Train Your Dragon or Lilo & Stitch. But those films had a lot of heart, specifically convincing and well thought out character relationships and motivations. I can't tell you how much I didn't need to see another animated film about an overprotective father and a headstrong daughter.
Between The Croods and Call of the Wild, it seems like Dean DeBlois was the heart of the Sanders-DeBlois partnership on their previous films. I guess Sanders was the comedian and the one who did the funny voices, but that's not enough to carry a movie. An attempt was clearly made to build characters and relationships in The Croods. The friction and reconciliation between Eep and Grug is supposed to be the emotional crux of the film, and her relationship with Guy was obviously supposed to be important too. But none of that works well at all. They feel like stock characters going through the well-worn motions we all know from movies like this.
I'm happy I rewatched The Croods because of the beautiful animation on the animals, scenery, and plants, but I'm not a fan of this film. Because neither the script nor the acting offer anything fresh to distinguish them, none of the characters seem more than tired clichés. The Croods has some technological merits, but aesthetic decisions like the character designs and a safe, boring narrative undermine any value. This film offers some interesting concepts, but the execution is lacking.